NOTE: This is an IN-STOCK doll which was damaged during shipping and refunded to the customer. It is NOT used.
The wiring for the heating/voice function of the doll was damaged in shipping. The heating/voice function does not work.
The following features are also locked and cannot be customized.

Normal Skin
Forest Green Eyes
#9 Long Brown Wavy Hair (wig)
#7 Patterned Flower Pink Nails
#4 Red Toenails
No Pubic Hair
Fixed Vagina (no insert)
No Tattoos
Medium Areolas
#4 Dark Tan Nipple Color
Natural Lips
Dark Brown Implanted Eyebrows
Stand-Up Foot
No Tan-Lines
No Lockable Storage
Zelda (Head A16) is a 162cm height Platinum Silicone Z-One Sex Doll.
She has delightfully large eyes, and yet a slim face, which promotes her look of innocence.

Z-One Dolls have a fully articulated metal skeleton, and are fully posable in many positions, and are considred to be well made dolls.

All 145cm - 170cm models can take advantage of the Heat and Sound Option, which takes these dolls to a new level of intimacy.
Measurements:
Height: 162cm / 5.31ft (63.78in)
Weight: 35kg / 77.16lbs
Bust: 86cm / 2.82ft (33.84in)
Chest: 64cm / 2.1ft (25.2in)
Waist: 63cm / 2.07ft (24.8in)
Hips: 86cm / 2.82ft (33.86in)
Shoulder Width: 43cm / 1.41ft ( 16.93in)
Arm Length: 72cm / 2.36ft (28.35in)
Leg Length: 81cm / 2.66ft (31.89in)
Foot Length: 21cm / 8.27in
---
Heating System
With Sino-Dolls there is the option of internal heating to bring the doll up to body temperature.
---
Skin Tones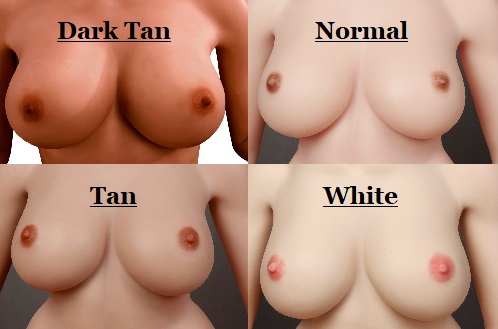 There are Four skin tones for Sino-Dolls:
Dark Tan
Normal
Tan
White
---
Eye Color

For Sino-Dolls, the Eye options are:

Brown Cat eyes
Blue eyes
Purple eyes
Brown eyes
Dark Brown eyes
Green eyes
Blue Cat Eyes
Grey Eyes
Red Eyes
---
Mechanical Eyes
You can opt for the eyes to be mechanical in terms of the movement.
---
Hair/wigs
There are 27 hair options for Sino-Dolls:

#1 Mouse Brown Bob Hair
#2 Red Bob Hair
#3 Platinum Blonde Bob Hair
#4 Pink Bob Hair
#5 Short Brown Wavy Hair
#6 Mid-Length Black Straight Hair
#7 Brown Bob Hair
#8 Black Bob Hair
#9 Mid-Brown Long Bob Hair
#10 Mid-Length Platinum Blonde Wavy Hair
#11 Mid-Length Dark Brown Curly Hair
#12 Mid-Length Mouse-Brown Wavy Hair
#13 Mid-Length Brown Wavy Hair
#14 Long Mouse-Brown Straight Hair
#15 Long Brown Wavy Hair
#16 Long Brown-Auburn Wavy Hair
#17 Long Black Wavy Hair
#18 Long Silver Straight Hair
#19 Long Ombre Brown-Blonde Straight Hair
#20 Long Blonde Wavy Hair
#21 Long 2-Tone Blonde Wavy Hair
#22 Long 2-Tone Brown Wavy Hair
#23 Long Brown Fringed Wavy Hair
#24 Long Dark Brown Wavy Hair
#25 Long Mid-Brown Wavy Hair
#26 Long Ombre Black-Brown Wavy Hair
#27 Long Black Wavy Hair
With Sino-Dolls we can have the entire wig/hair implanted into the silicone for you if you wish.
This does incur a substantial cost due to the level of work required to do this.
---
Lip Tones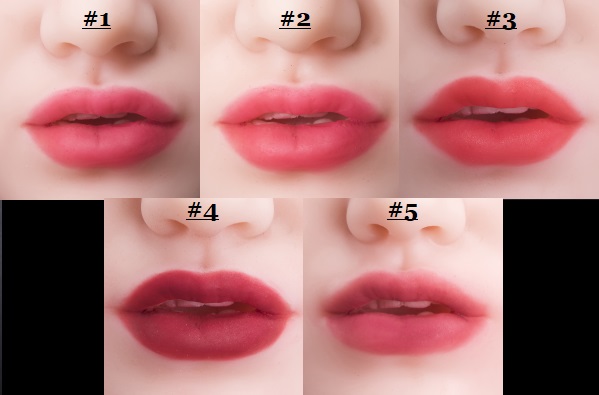 The Facial Lips have five options for Sino-Dolls:
Dark Pink Lips
Light Pink Lips
Light Red Lips
Dark Red Lips
Natural Lips
---
Fingernails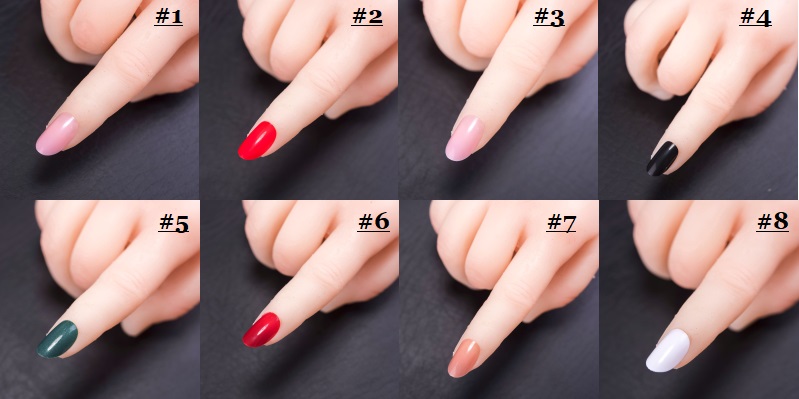 There are eight fingernail options with Sino-Dolls:
Pink
Red
Natural
Black
Metallic Green
Dark Red
Light Brown
White
---
Toenails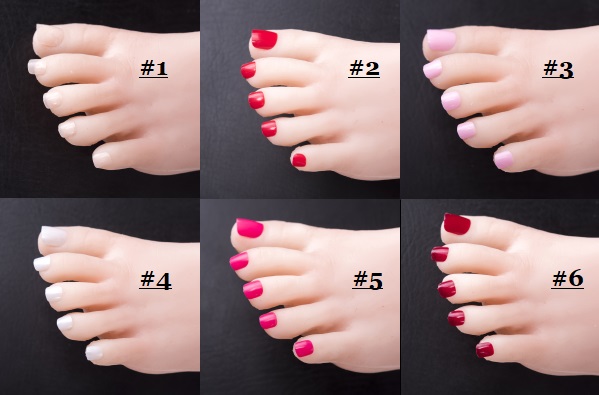 There are six toenail options for Sino-Dolls:
Natural Toenails
Red Toenails
Pink Toenails
White Toenails
Dark Pink Toenails
Dark Red Toenails
---
Shoulder Type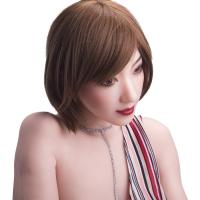 With Sino-Dolls there are two types of Shoulders:
Shrugging - as in image
Non-Shrugging
---
Feet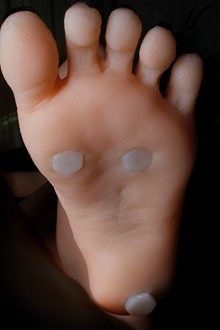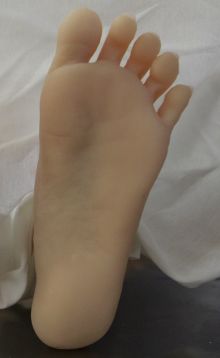 You have two options with Sino-Dolls:
Standard feet - look like normal feet, but has trouble bearing the full weight of the doll, and standing unaided.
Stand-Up Feet - Have 3 bolts protruding from the sole of the foot, that bear the full weight of the doll, and allow to stand unaided.
---
Tattoos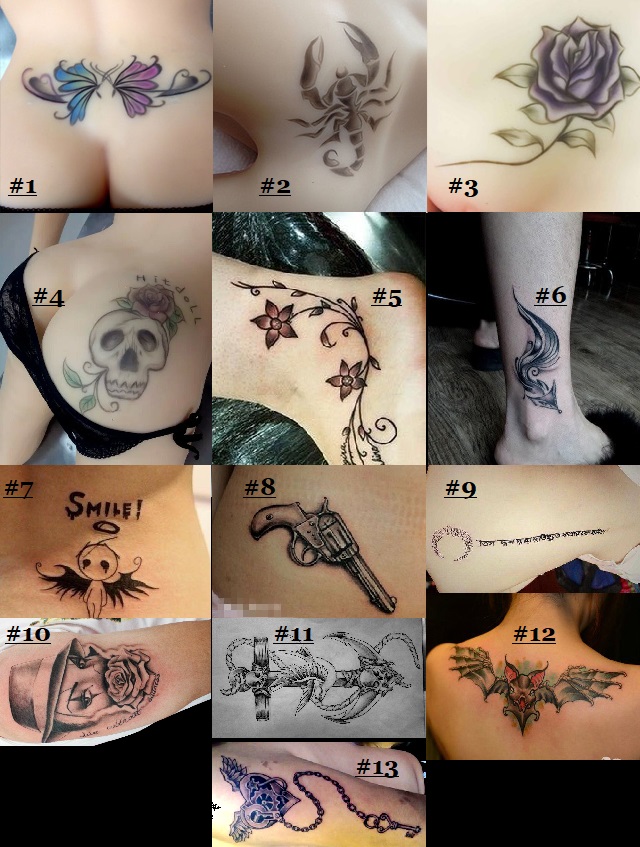 There are various tattoo options that can be added to a Sino-Doll.
These are:
Butterfly Ink
Scorpion Ink
Rose Ink
Skull Ink
Star-Flower Ink
Foxy Ink
Angel Ink
Pistol Ink
Symbolic ink
Face Ink
Anchor Ink
Bat Ink
Key Chain Ink
These tattoos can be placed anywhere on the body.
Please let us know where you would like the tattoo in the Checkout process.
---
Areola Size

The size of Sino-Dolls areolas are:
Small
Medium
Large
---
Areola Tones

There are many options with a Sino-Doll for Areola/nipple tones:
Light Pink Nipple
Dark Pink Nipple
Tan Nipple
---
Pubic Hair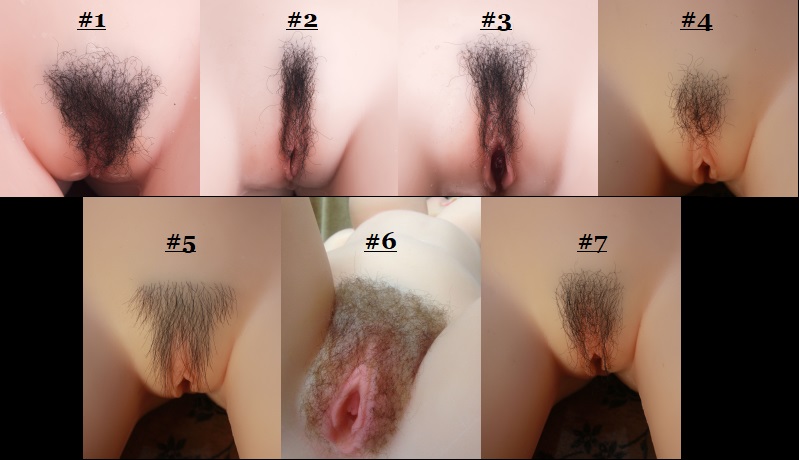 There are eight options for Pubic Hair with Sino-dolls:
No Pubic Hair
Thick Trimmed
Strip
Thin
Tuft
Thin Trimmed
Natural
Large Tuft
---
Vagina Type
Sino-Dolls come with two/three types of Vagina:
Fixed vagina - as in the image, is an integral part of the doll.
Removable Vagina - the vaginal cavity will contain a removable insert, that feels like the fixed vagina, but can be removed for easy cleaning.
The removable insert can be seen half-inserted into the vaginal cavity in the image.
Ultra Soft (fixed) vagina
Once inserted, there are no appearance difference between the fixed and removable types.
---
Virginal Membrane
With Sino-Dolls you have the optional to have an intact Virginal Membrane, or Hymen.
---
Eyebrows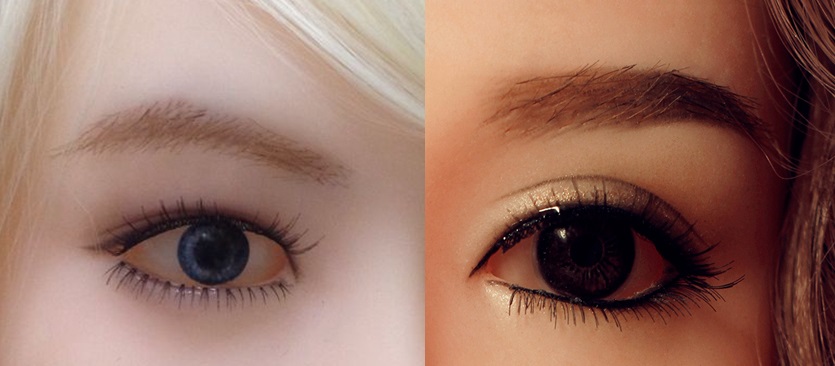 With Sino-Dolls you have the option of selecting implanted eyebrows, rather than painted on eyebrows.
There are two types:
Light Brown Eyebrows
Dark Brown Eyebrows

---
Tan Lines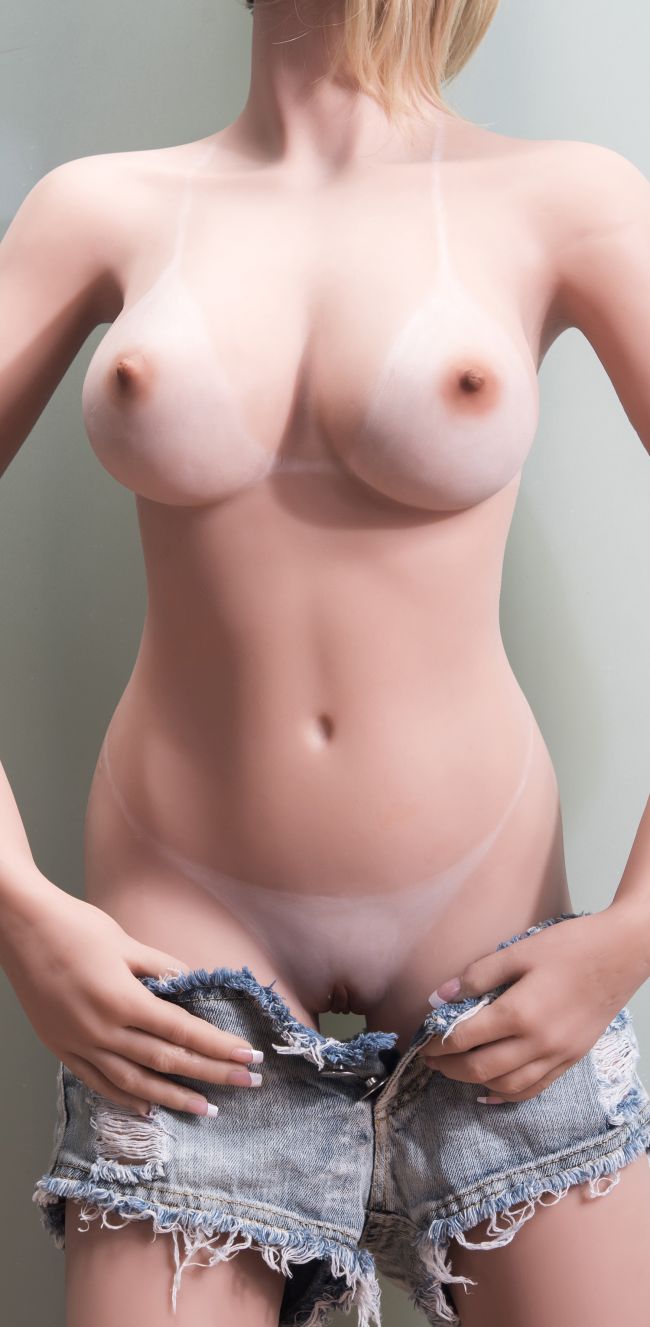 With Sino-Dolls there are the options to have Tan Lines, or not at all.
---
Doll Packaging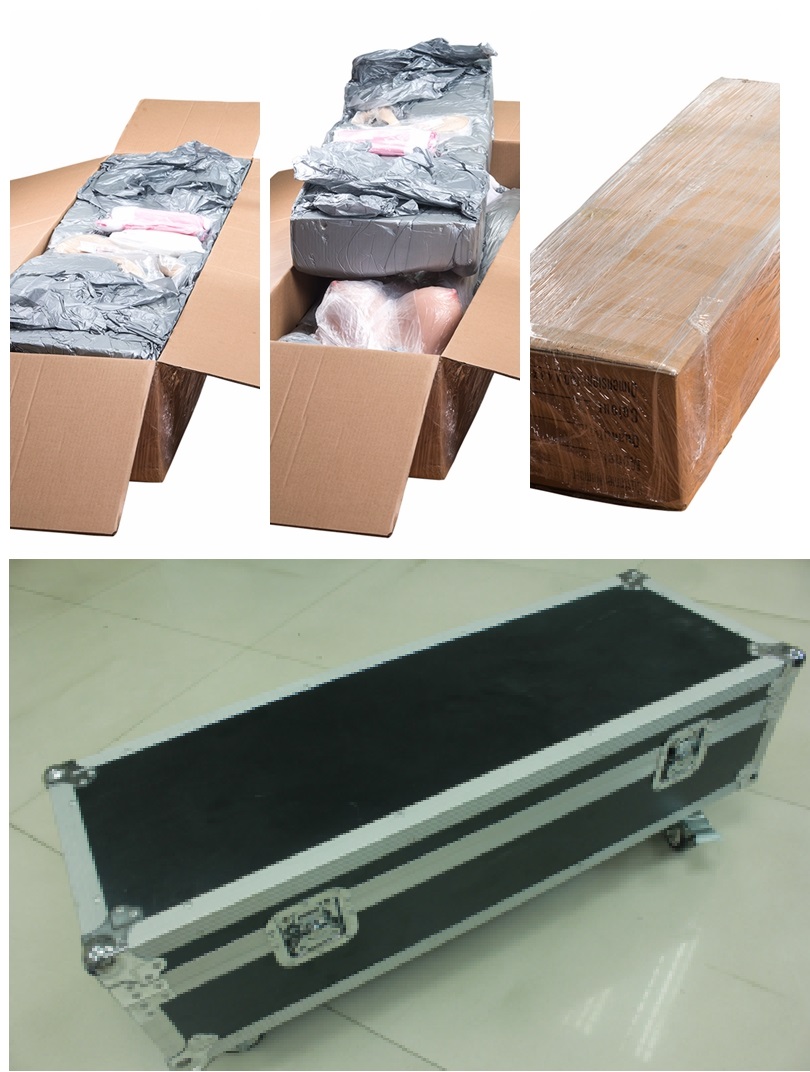 Your doll will be securely packed in a cardboard box with polystyrene support throughout the box so the doll cannot move within the box. Alternatively, you can opt for the flight case packaging which can double up as lockable storage, as the clasps can be locked with a padlock to secure them.
---
Vital Statistics
Type
Silicone
Head
A16
Body
Z-One 162cm
Height
162cm - 63.8 inches
Weight
35kg - 77.16lbs
Bust
86cm - 2.82ft (33.84in)
Chest/Band
64cm - 2.1ft (25.2in)
Waist
63cm - 2.07ft (24.8in)
Hips
86cm - 2.82ft (33.86in)
Other Measurements
Shoulder Width
43cm - 1.41ft ( 16.93in)
Arm Length
72cm - 2.36ft (28.35in)
Leg Length
81cm - 2.66ft (31.89in)
Upper Arm Girth
Wrist Girth
Thigh Girth
Calf Girth
Ankle Girth
Foot Length
21cm - 8.27in
Interactive Areas
Vaginal Depth
Anal Depth
Oral Depth
162cm Z-One with Head A16 (In Stock)
Brands Z-One
Product Code: Zelda Z-One Dolls 162cm Head A16
Availability: In Stock